Nichrome 80 wire. You will receive a 1000ft spool.
Genuine Sandvik Wire - Smelted in Sweden, Milled in the USA.
Specifications:
24, 28, 29, 30, 32, 34, 36, 38, and 40 gauge available

Contains 80% nickel, 20% chromium, iron free !
We pride ourselves on the quality of our wire and our spooling process. If you encounter issues with any of our wire products, please utilize the Support box on the bottom left of the page to contact our support team.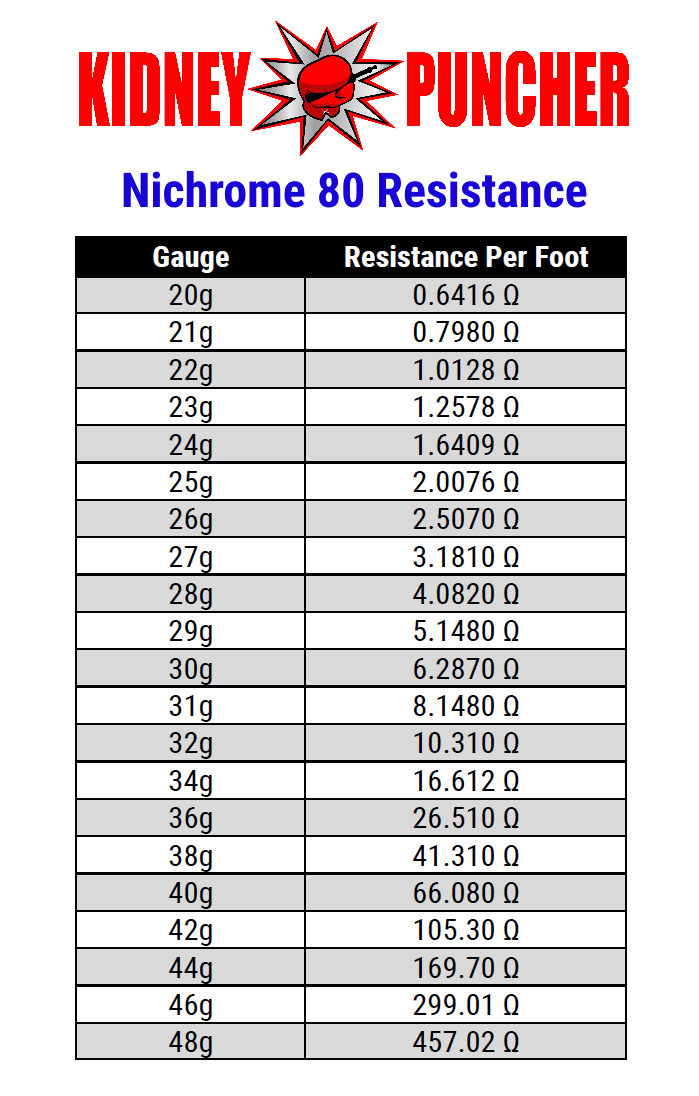 I can't say it enough that I love Kidney Puncher wire. It's ALWAYS spooled perfectly. It's always perfect wire. I have bought thousands of feet and have never had one foot of it be anything but perfect. Best wire in the game, hands down.

The best wire ever made, PERIOD.

The only wire that I buy, both for personal builds and use as well as for my coil company, Ohm Made Coils (@vanderwarkert on ig) not only is it the cleanest, highest quality wire on the market (and i have tried it ALL trust me, ) but it is perfectly spooled every single time, havent gotten a kink, a wave, a spec of dust, or even a slight curve in the ribbon wire, core wire, or high gauges and ive been through hundreds and hundreds of spools of this wire. It out performs and outlasts everything else, and is the only wire that i trust to sell to my (happy) customers :D Kidneypuncher is an absolute industry standard, other wire just doesnt even compare. Thanks for setting the bar kp.

Only 36g n80 I've ever used that lays FLAT when unspooled. Shiny shiny shiny for staples and aliens. Colors are pure, no pitting in wire. If I could afford it I'd never use any other wire. If you want proof of my claims check out.my IG crazyvapez

Best wire I've used and only wire I continue to use

great wire keep up the good work

Best wire iv used

This stuff is by far my favorite wire to get. Iv never gotten a bad or kinked spool as i have from other companies. The lager spool makes them easyer to work with. This hasn't been my first time ordering and will not be my last especialy for my demmand for what I make.

Comes on very large spools like TM wire and the quality is top notch. Loving it. Found my new favorite wire !

Best size and quality N80 for the price!

Hands down the greatest spool of wire for claptons, fused claptons, staples, and aliens I've ever used and owned. Extremely high end performance and a quality vape with every build. Ramp up, flavor and life span offor the coils made with this wire is uncomparable to any other wire in its class

I got this wire in 40g and I was worried at first because of how thin it was but it was actually a great time working with it and the quality of the wire was outstanding.