18650 Battery Tests
6/30/2015 - Sony VTC 5 are back !
It's been a long time since we sold Sony VTC batteries. Our industrial distributor had been out of stock since late 2014. We tried other sources, but each time we tested the batteries from the China trading companies, the cells would turn out to be fake. A couple weeks ago, our industrial distributor contacted us to say that they had Sony VTC 5 cells coming back in stock again. We were optimistic but cautious.
Could it really be true that these cells were finally flowing back into the secondary market ? The only way to know for sure would be to order some and test 'em.
Which is exactly what we did. They passed our visual inspection, so we subjected them to our tests. They passed it with flying colors ! Here's the chart: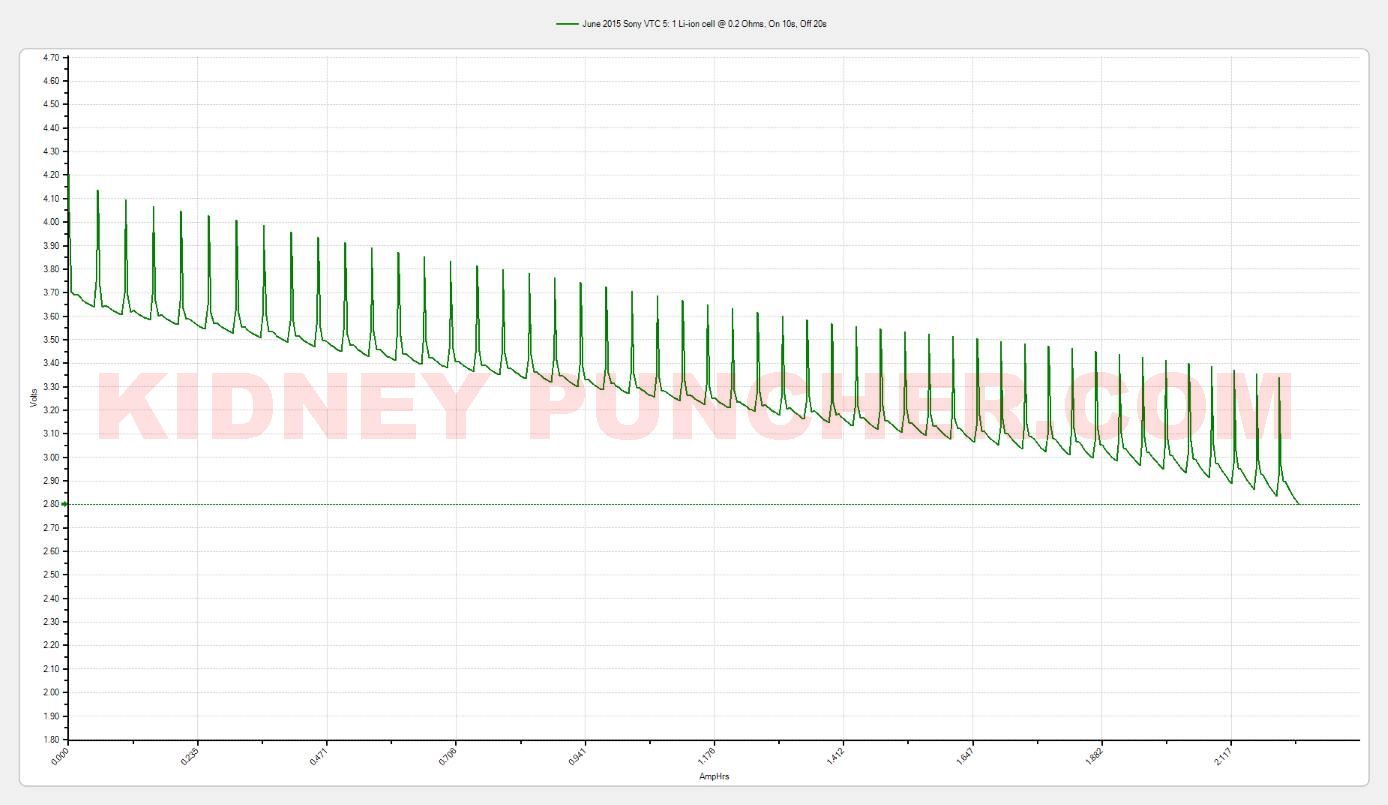 5/5/2015 - Aspire 1800 mAh "ICR"
Normally, if a vendor sends me an ICR battery, I wouldn't consider it. Aspire, however, has enough credibility that I gave them a shot. The story I have from my China contacts is that Aspire actually has an automated tape machine / battery factory. It's an approx 2 million USD investment to set up a single line for 18650 Li-Ion cells. Even so, Aspire would be one of the few companies that would have the capital to do this and do it right. The other part of the story is that this is the first cell "designed for vaping" loads / duty cycles.
Enough words, here's the first test.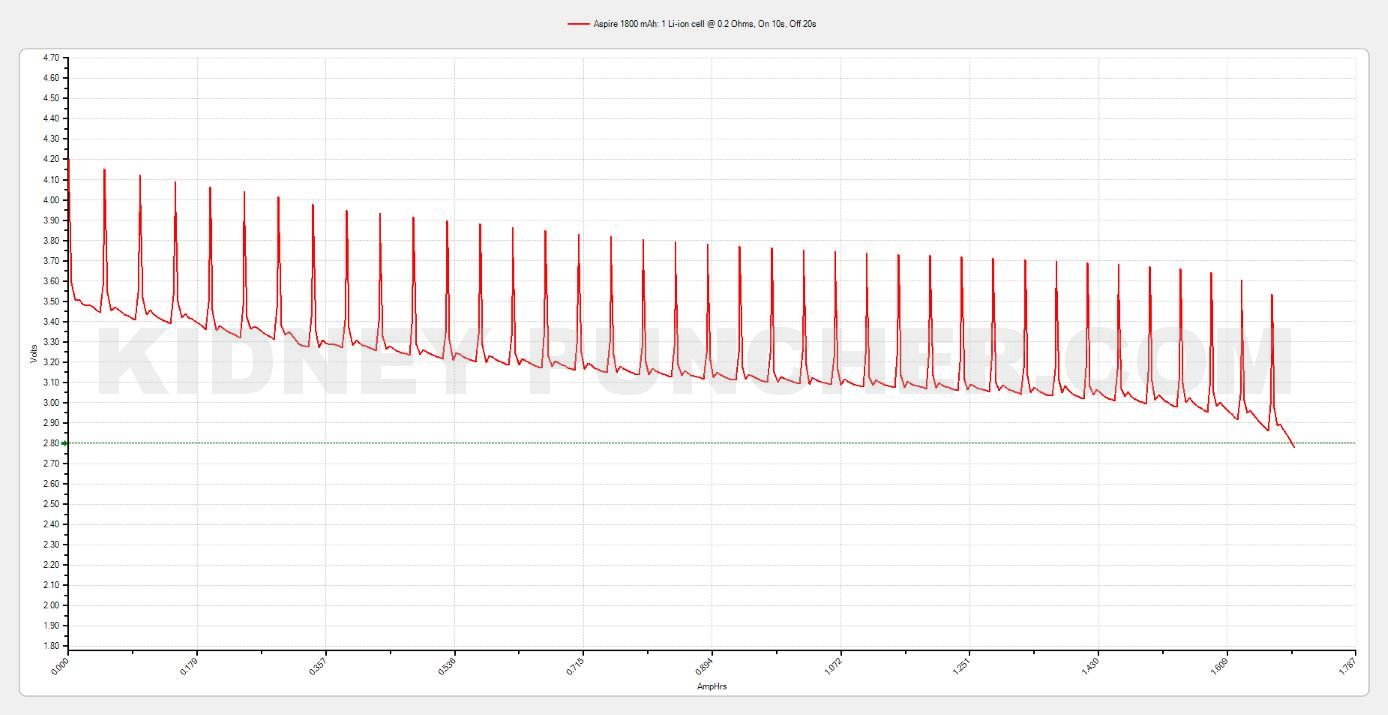 Keep in mind this is the first test on a brand new cell. I plan on charging/testing at least 5 more times to give this cell a chance to "break in" and potentially perform better. I was just so excited at these results that I wanted to get this out ASAP.
Note: We still need to do more constant resistance / duty cycle testing before we bring the battery in to sell. I also plan on doing a 35/36amp (the limit of our rig) constant current discharge test to see how it lives up to its "40 amp" label. We are working on upgrading the test rig to do 40 amps and above.
Summary: Looks very promising !
4/25/2014 - LG 18650 HG2 3000 mAh
So, first test on this battery. I'm going to do a few more runs to see if the tests improve (as has been suggested in regards to battery testing in general). As of right now though, I'm not impressed.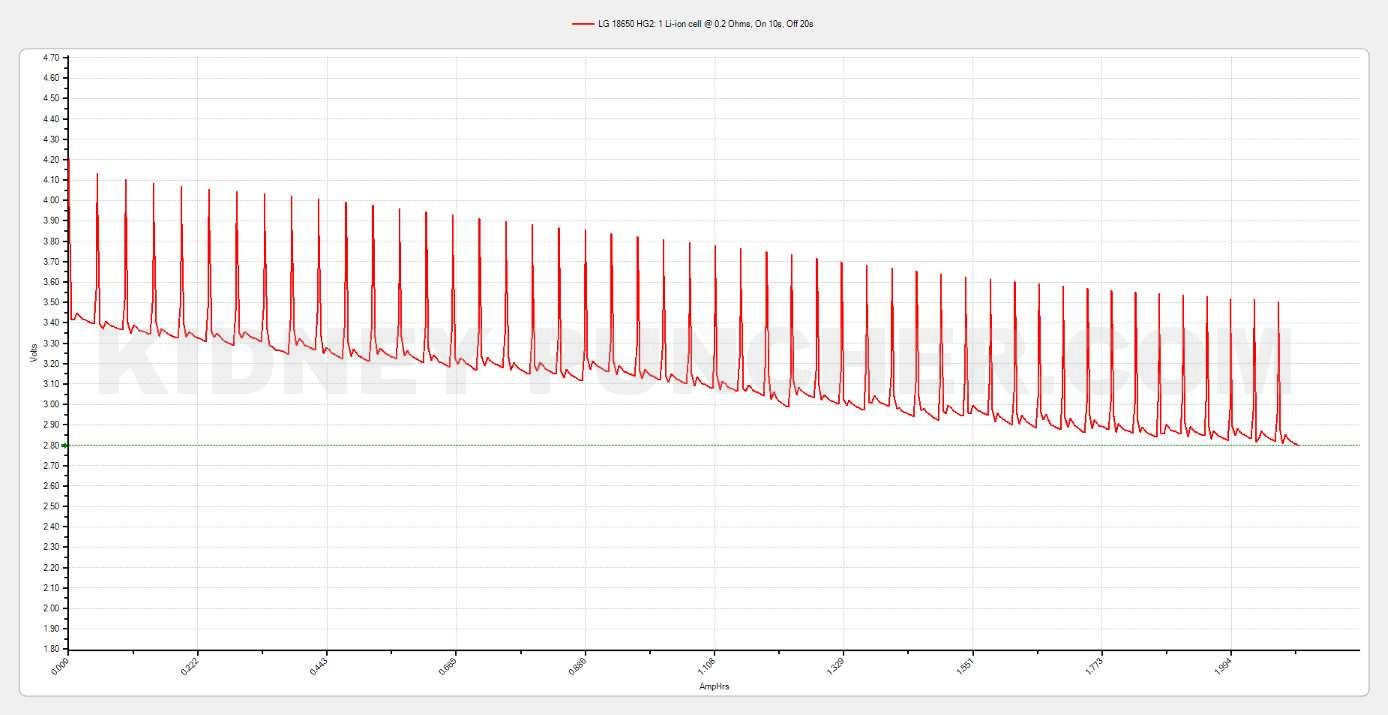 2/8/2014 - SubOhmCell update
It has come to our attention that certain parties are using the OLD SubOhmCell tests on our site to push the "new" SubOhmCell. We need to address this.
On Jan 2nd 2015, we received the "new" SubOhmCell along with another cell called "MJVB" to test. Clearly, the cell inside the SubOhmCell has been changed to a different cell than what we first tested in 2014. The "new" SubOhmCell" performs roughly in line with a Samsung INR 18650-25R.
Let me reiterate: In our tests, they DO NOT perform the same as the the SubOhmCells from 2014. Anyone using our old tests to sell these "new" SubOhmCells is misrepresenting what they have to sell. We've removed the graph for the old test from our site to avoid confusion.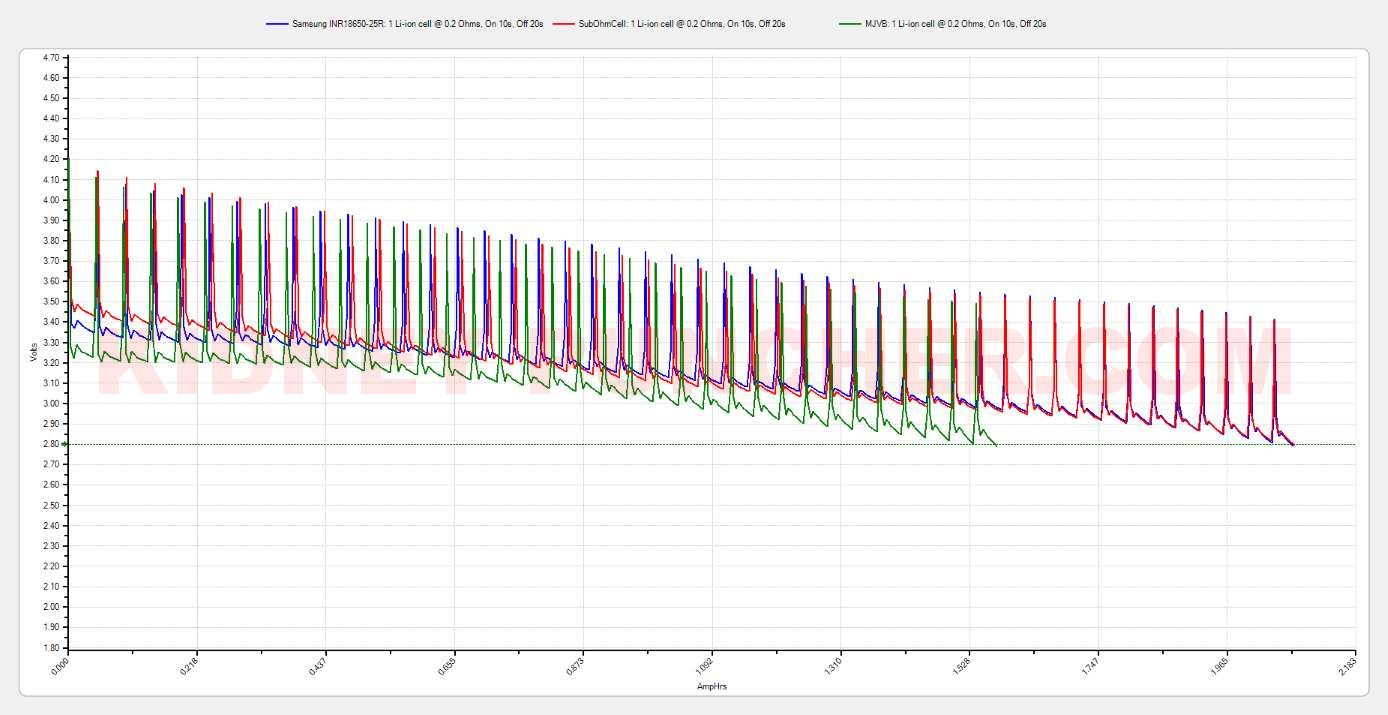 11/4/2014
Imren vs Samsung 25R
.2 ohm constant resistance

On for 10 seconds

Off for 20 seconds

Terminate test when under load voltage hits 2.8 volts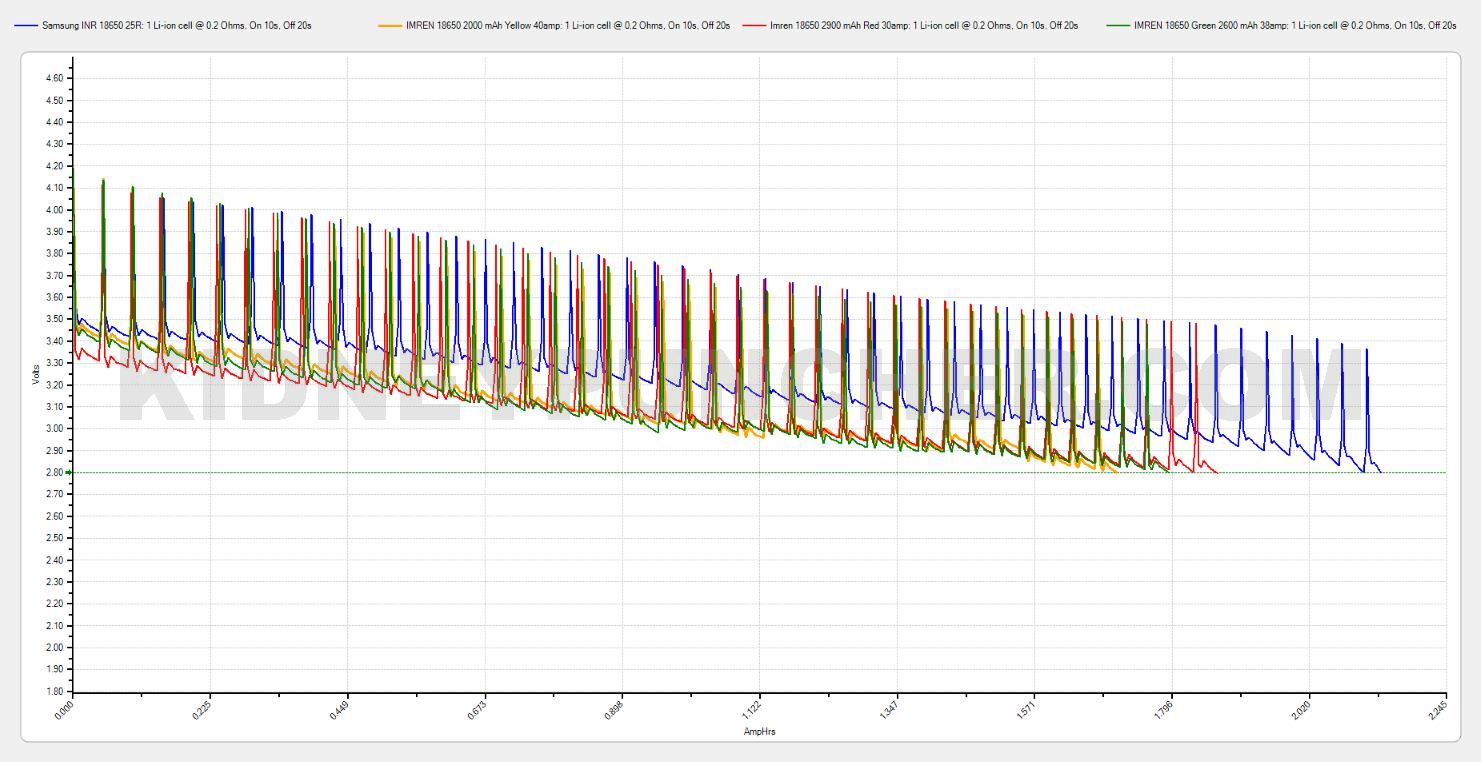 So if the Samsung 25R is "better" than the IMREN batteries on the .2 ohm 10 sec on 20 sec off test, how does it compare against the Sony VTC5 ?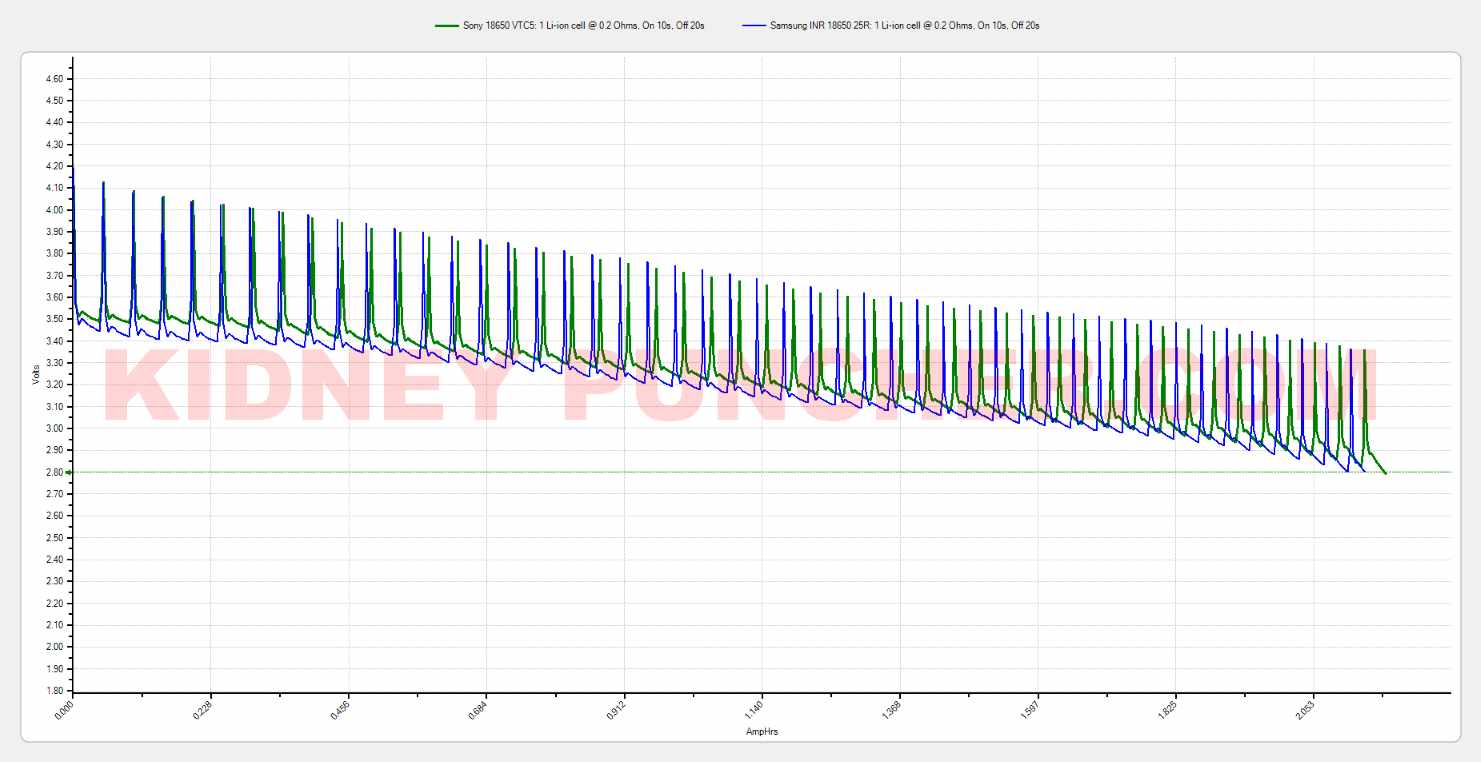 ----------------------------------
Older Tests:
How we tested:
.2 ohm load

4 second hits

60 second rest between hits

cut off at 2.8 volts UNDER LOAD
Here are all the charts for the 18650 tests:
We just got our new "faster" battery tester. First up are charts for the VTC5 and the Subohmcell 2800 mah.
VTC5 w/New Tester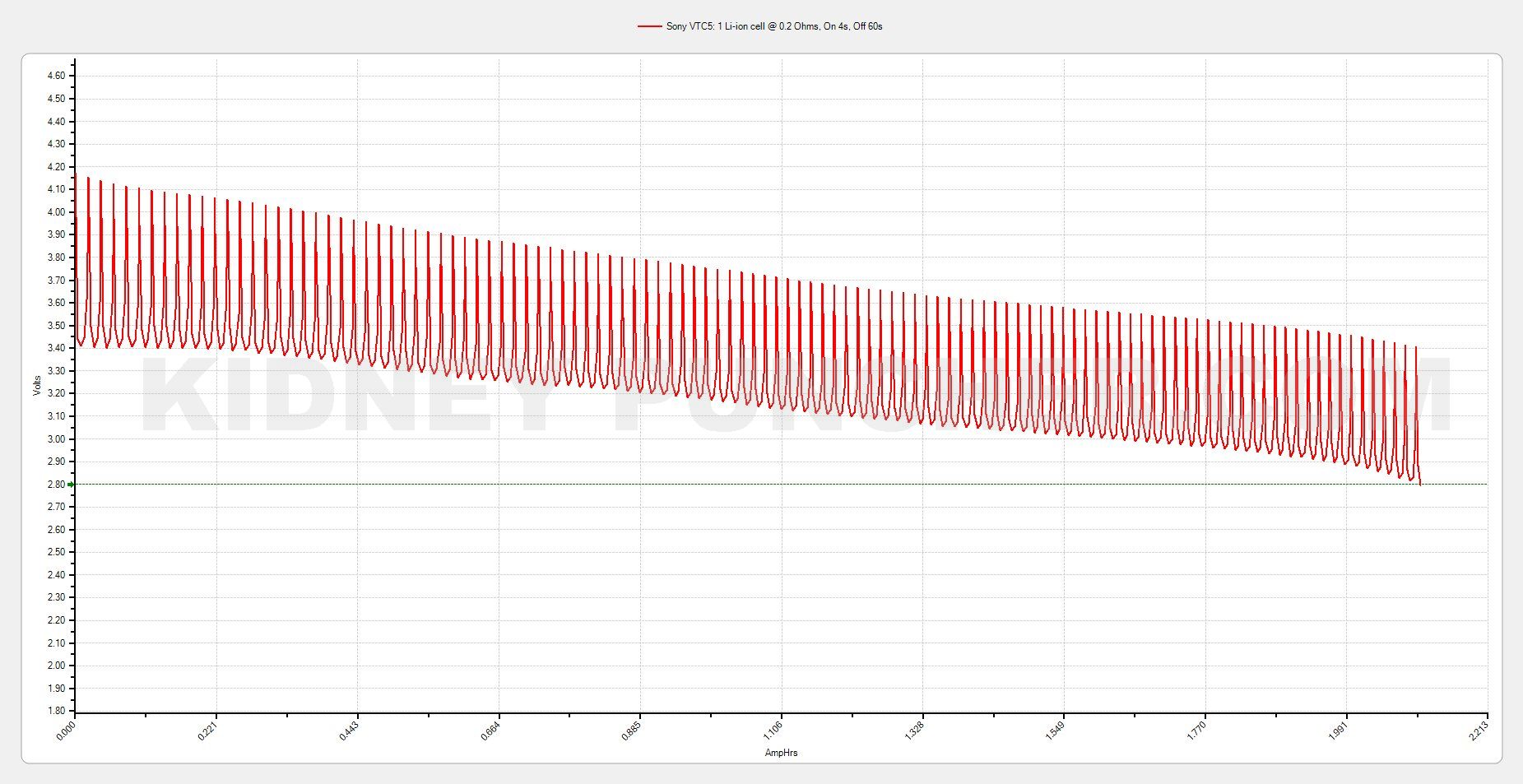 --------Tests below here were performed with the older slower tester -------
Samsung INR18650-25R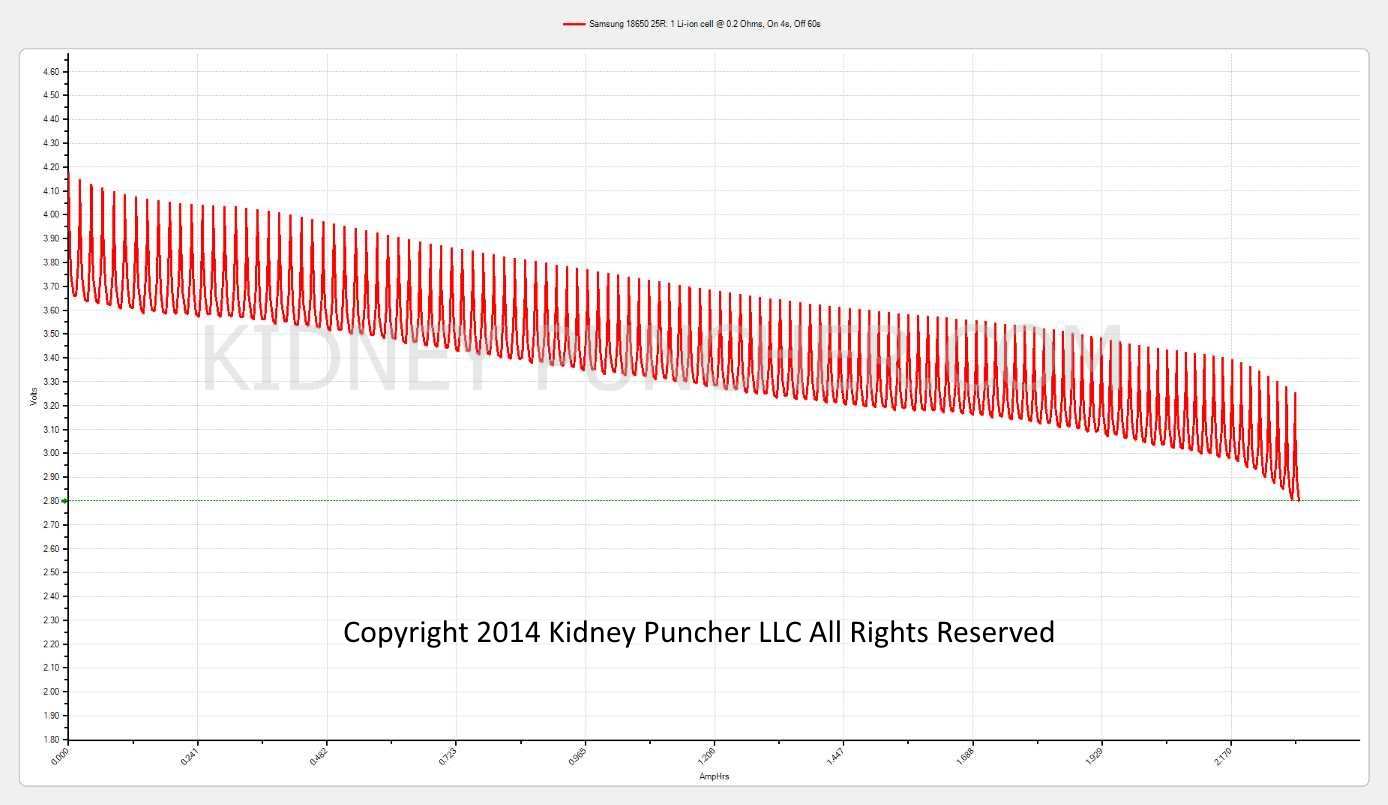 LG 18650HE2 2500mAh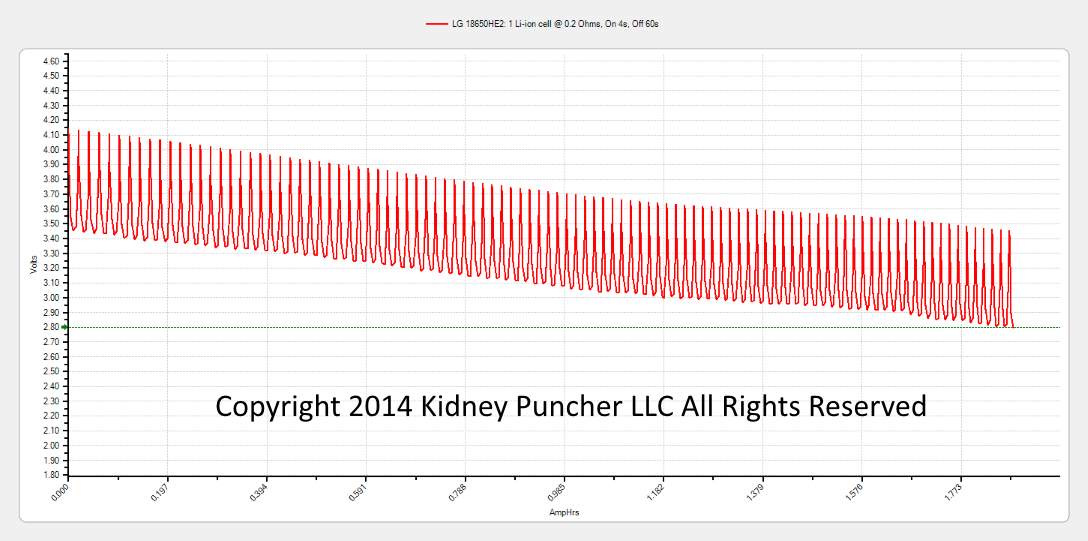 Vamped 2000 mAh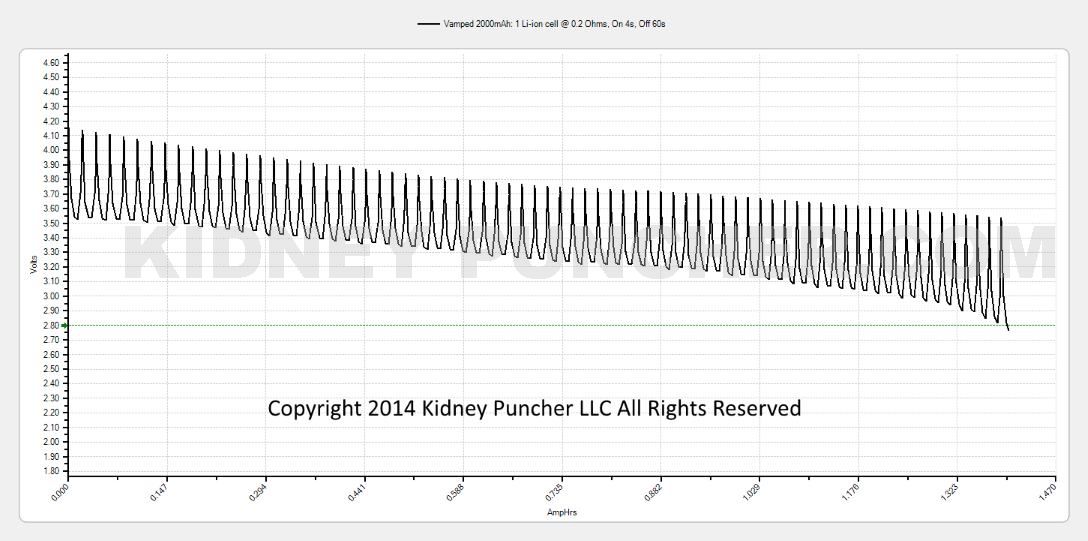 Sony VTC4 2100 mAh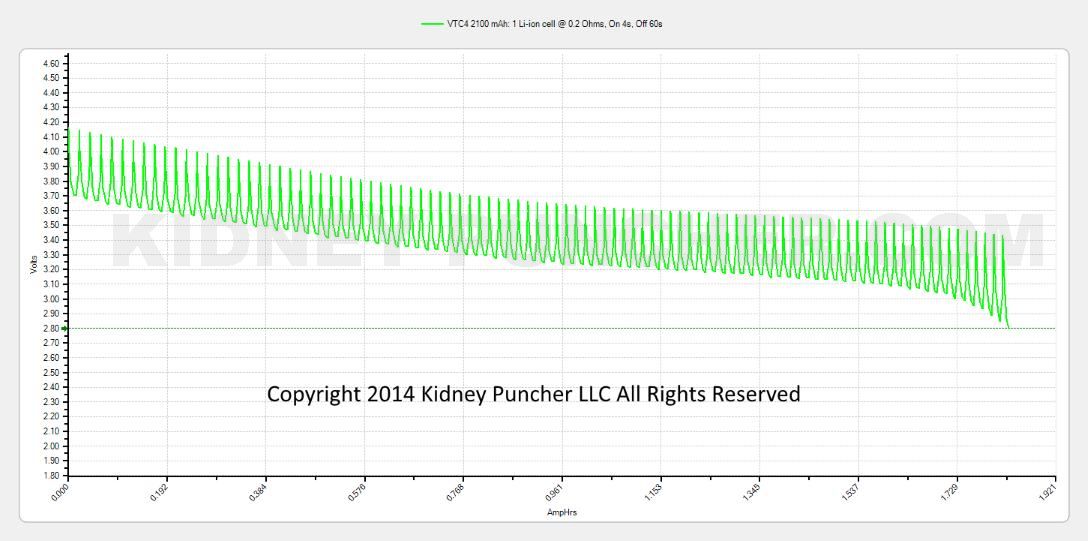 Sony VTC5 2600 mAh