SkyRC MC3000 Charger
One of the best hobbyist level chargers available and capable of charging at up to 3 Amps. The SkyRC MC3000 brings tons of unique features to the table that are not available with normal consumer level equipment. Compatible with seven different battery chemistries, including NiMH, Eneloop, NiCd, Lithium Ion and more, if the battery you want to charge is cylindrical, you can probably charge it using the MC3000. The MC3000 has an industrial look to it with thick metal battery trays and feet to raise it off the surface you place it on, allowing for more airflow to cool the charger.
The MC3000 has six different modes available. You can also create custom programs to utilize these functionalities to your desired use.
Modes:
Charge -

Charge the battery at the selected rate. Suitable for frequently used batteries.

Discharge -

Discharge the batteries at the selected rate.

Refresh & Analyze -

Suitable for batteries stored for more than two weeks but less than 3 months or the batteries showing poor performance. This mode can also determine the battery capacity for battery matching.

Break-In -

Battery forming is a charge-discharge-charge cycle which forces a full charge into the new batteries and those stored for more than 3 months at a very low rate to activate the batteries.

Cycle -

Performs charge-dicharge cycle for up to 99 times. Cycle mode can remove memory effect of rechargeable batteries.
Features:
Support for NiMh, NiCd, Li-Ion, LiFePO4, Lilo4.35, NiZn and Eneloop

Bluetooth: Used to connect to a phone with the Android or Iphone App to control the charger and view real time data
PC Control: U

se PC Link software to control the charger, view real time data with graphs, and also update the charger firmware through it.

Effective Cooling: Built in aluminum heat sink and feet to raise the charger to allow airflow

Support for 42+ Battery Sizes. Commonly used AAA, AA, C, D, 18650, 18350. Check below for full list

Safety Features: Current Limit, Capacity Limit, Temperature Threshold, Charging Time Limit

USB Power Output: USB port on side to charge USB devices

128 x 64 LCD Display
Specs:
Dimensions: 200mm x 124mm x 69mm

Input Power: DC 11-18V/4A

Charge Current Range: .05 - 3.0A

Discharge Current Rate: .

05 - 2.0A

Max Charge Power: 50W

USB Power Output: DC 5V/2.1A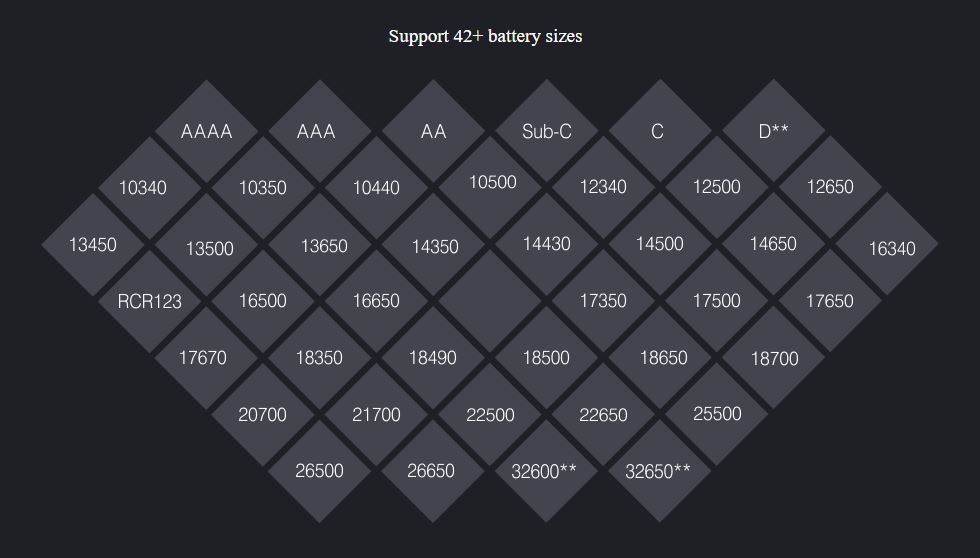 Downloads
MC3000 Charger Monitor (PC Software)
One year warranty for manufacturing defects. Please contact us if you experience any issues relating to manufacturing or assembly defects.
No reviews for this product.